Art Keepsake Program
Looking for a great fundraising opportunity for your school?
Our Art Keepsake Program utilizes children's original artwork to create beautiful one-of-a-kind keepsakes for friends & family members by putting their artwork on items such as coffee mugs, magnets, tote bags and t-shirts. What fun for a child to see their artwork memorialized in such a special way.
All of our products are made with a special printing process called Sublimation. Sublimation offers many benefits over the typical screen-printing method used by many companies.
Benefits include:
When applying heat and pressure, the sublimation ink turns into a vapor form and actually becomes a part of the coating on the item. The print is actually under the surface of the item. Unlike a screen-printed image, you cannot run your hand over the print and feel it – it looks as if there is actually a clear coating over the print on ceramic items. On fabric items, it actually dyes the thread rather than apply the image on top of the fabric.
Because it adheres itself within the coating, the image is not exposed to the same elements a screen-printed item would be exposed to – it is protected, giving it a longer life.
The process of sublimation offers beautiful, vibrant colors.
Items such as coffee mugs are dishwasher safe opposed to screen printed items which cannot be put in the dishwasher because the image may fade or scratch off due to the fact that it sits on top of the coating.
Art Keepsake Program Items Include: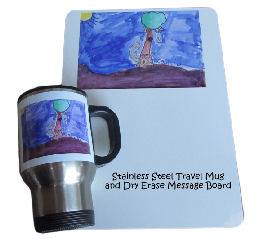 2 ¼" x 2 ¼" Key Chain
2 ¼" x 2 ¼" Magnet
15 Ounce Ceramic
Coffee Mug Garden Flag
14 Oz Water Bottle
Message Board
15 Ounce Stainless Steel Travel Mug
Teddy Bear with Tshirt
Child's T-Shirt
Mouse Pad
Tote Bag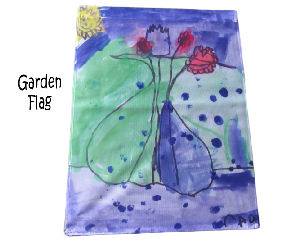 Luggage Tags
Bookmark
Ornament
Our Art Keepsake program is designed to offer your school a successful and profitable fundraising experience while offering your families beautiful keepsakes they are certain to treasure for many years to come.
Tips
Offer your fundraiser around holidays such as Mother's Day, Father's Day or Christmas to give your sales a boost by offering perfect gifts for friends & family members for these holidays. Parents and grandparents love our items!
The school may choose a common theme, (such as flowers or family, etc.), or the children can draw whatever interests them. It's recommended to have the child draw something that would appeal to both the child and the parents. (perhaps a family or self portrait, a picture of a family pet, an outline of their hands or a personalized message of love.)
Artwork may be created with crayons, markers or paint. Bright, vibrant colors should be used. Bright paints and markers work best!!
Drawings should be kept within an inch or so of the border of the paper due to the fact that we have to crop edges off for certain items.
Ensure that children sign their artwork with their name and the year.  This should be done at least 2 inches away from the edge of the artwork as slight cropping may occur.
Specifics

We supply your school with the art paper. Children create drawings they would like to use for this project.
Once artwork is completed, it will be collected and scanned. A picture of the artwork will be returned to the school with an order form attached to go home to parents.
Completed order forms and payments are returned to the school and PersonalizeIt will pick them up from the school once they are all received. Checks are made payable to PersonalizeIt!.
Orders will be filled within a set amount of time. (A specific date will be provided prior to orders being placed.) Normal processing time is 2 to 4 weeks, depending on the size of the school.
Our program is designed to offer your school a profit of 20% of the sale price of each item. Best of all, the retail pricing offered to your parents is in many cases, much lower than what other companies offer. And, because we are local – there are no added shipping costs. This alone is a huge benefit. The result is more sales and happy customers!
The school will receive their proceeds from the fundraiser directly from PersonalizeIt! the day the items are delivered to the school, along with a detailed account of sales.
Contact us today at rhonda@personalizeitforyou.com or 603/547-3222 for details!!